Upper Arm Keloid
This is the case of a 30-year-old female with a large and bulky keloid in her left upper arm. This keloid first developed when she was 17 years old. She first noticed a pimple on her arm which gradually grew larger.
The keloid was first treated with intralesional steroid injections, however it did not respond to sterothis treatment and grew larger. Subsequently, she was advised to have surgery. The keloid re-grew soon after surgery, at which point she was retreated with intralesional steroid injections and was once again advised to have repeat surgery by the first surgeon.  Patient refused undergoing surgery.
It is of interest, that in her late teens, she had developed keloids on both her ears, yet they were successfully removed with surgery.  The image below depicts her upper arm keloid when she came to our practice in February 2014.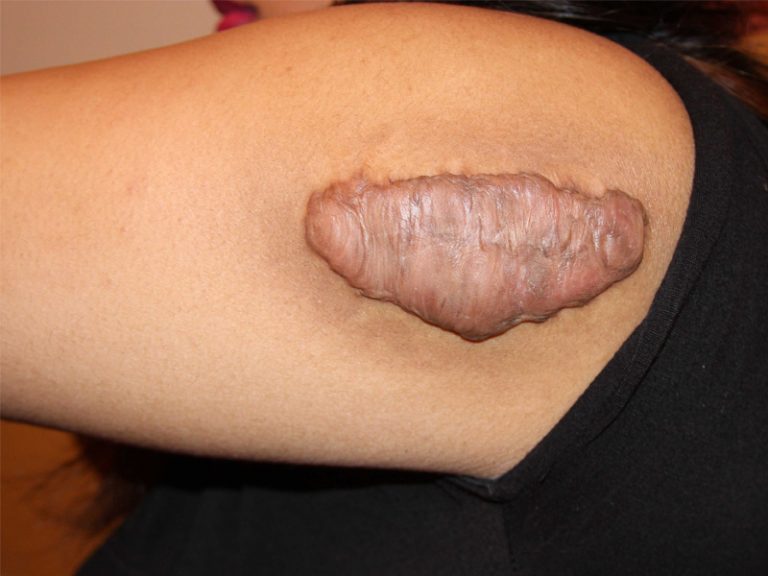 Treating such large keloids is rather challenging.  The most important lesson to be learned from this case is that early stage keloid lesions should NOT be treated with surgery.  Combination of cryotherapy, intralesional steroids and if needed, intralesional chemotherapy should be used aggresively to try to induce remison in small keloids, and in order to prevent formation of these very large kelois.
This patient was first treated with cryotherapy in order to reduce the bulk of her keloid. Due to the large size of her keloid, cryotherapy was first applied to one half of her keloid, and then to the other half. She achieved a reasonable tumor reduction, yet needed ongoing mdeical care in order to maintain the response that was achieved. .
Cryotherapy was continued and keloid continued to respond, yet we never achieved total clearance of the keloid.
Over the next few months, the deep layer of keloid started to slowly re-grow.
At this point, we decided to treat the remnant of her keloid with intra-lesional chemotherapy, to which she has had a noticeable response.
From this point on, the remnant of the keloid needs more treatment to remain in remission.