Letter from a patient's family to Dr. Tirgan
Dear Dr. Tirgan,
We first came to see you in July of 2014 to have our son Sam's ear treated for a keloid. After all, he had been through with that ear I have to say I didn't share your confidence that it would finally stop growing and even be reduced to almost gone….. really all there is is a bit of scarring – almost like a burn. Amazing compared to what it was prior to treatment. January 2015 was his third and final treatment which means it has been stable for 2+ years! We are so grateful and see the whole process as an answer to many prayers. We thank you for the service that you have provided to our son! He graduates from High School in just a few more months! I will send pictures soon for your records. (of his ear, not graduation)
Sincerely,
Karmen, Terry & Sam
(April 2017)
Specialist Treatment for Keloids only
New York has hundreds of dermatologists and plastic surgeons who among everything else, also treat keloids. But, Dr. Tirgan is the only physician in North America whose medical practice and research is dedicated solely to the treatment of keloid patients. For the past several years, Dr. Tirgan has provided medical care and keloid treatment to over 2,000+ keloid patients, many of whom traveled to New York from far away places.
Michael Jamaleddine
August 10, 2021.
Amazing doctor with a big heart that truly cares about his patients. I've seen him several times over the last couple of years and have experienced great results from his treatment and I learned a lot about keloids as well.
Stephanie Payne
July 15, 2021.
Dr Tirgan is honestly my Angel. I had really bad plastic surgery that left me with keloids across my whole upper body . He told me right from the beginning it was going to be a long process and to be Patient but he will fix me.. 1 year later I finally feel normal again. I cant thank him enough. I have never trusted a Dr the way I trust him.
Robert Silverman
April 30, 2021.
Excellent doctor who specializes in keloids. Reviewed my condition, made a plan and executed exactly how he described in our initial consultation. Therapies resulted in the elimination of the keloids and smooth skin that looks natural. I have complete trust in Dr. Tirgan.
Kristen Jones
February 11, 2021.
Dr. Tirgan is an outstanding doctor. He is not only an innovator in his field but he is also kind and very patient in answering questions. If you are looking for Keloid treatment options, you know there are almost no other non invasive methods. We were delighted with the results and can't say enough about how life changing Dr. Tirgan was for my family. We are grateful and so lucky to have found Dr. Tirgan. After our first visit we knew we had found the right treatment options. Do your research on this topic. Wish we could rate 10 stars!
Sandeep Akella (Deepsand)
August 20, 2020.
Very professional and very knowledgeable. Prioritizes patient care above all else.
Jonathan Beyer
June 19, 2020.
Dr. Tirgan helped my son tremendously. We came to him with a large Keloid on his ear. He took the time to explain the cryotherapy and how he could help us. Dr Tirgan was very kind and patient at each visit. After the treatments, the keloid was gone. I am so grateful for Dr. Tirgan.
Isha Kamara
June 13, 2018.
I have had Keloid's for almost 8 years now on both of my ears. They were so huge and very painful. I did surgery and it came back bigger. I found him on the internet and it was the best decision I have ever made in my life. He's the best and the very best. He's so patience and speaks to you so well. I had my procedure the first time I saw him and lord I'm almost at the end of the road. I got my second procedure in two weeks and I just can't wait. The Keloid's is almost gone and I'm shaking and happy because I was so scared even though I saw a lot of videos but I was still scared. I'm glad I found him. He picks up my calls every time I call him to ask questions. He's the best. I got one more to go and hopefully I will be Keloid's free. It only took me two to three weeks and half of the Keloid's fell off. Thank you so much. You are a blessing!!!! I can't wait to see you again.
Chiquita Combs
June 13, 2018.
I have suffered with keloids for so long I can't remember how long It has been. I was diagnosed with Hidradenitis Suppurativa years ago and proceeded with the steroid injections. Multiple injections every 4 to 6 weeks was too painful to committment to. I just couldn't do it to myself on a regular basis. I allowed my condition to accelerate and progress for a few years without any treatment before I made the committment to seek the most painless medical treatment for my condition. After doing the research on my condition and watching too many YouTube videos, I recently scheduled a consultation with DR. MICHAEL TIRGAN in Manhattan, NY. My first appointment I was exactly one hour late due to the traffic from Long Island to NYC and I was greeted pleasantly by Roseann and not scolded for being late. There were plenty of patients that hot and sunny Saturday so I waited patiently until it was my turn. Dr. Tirgan was gentle speaking and not shocked by the multiple keloids under my arms and on the back of my shoulder and on my stomach and partially covering my breast and most of all he listened to me. He recommended the Cryotherapy which was my choice of treatment and prescribed a dual antibiotic to heal the infection that was occurring regularly. I followed up with my 2nd appointment with Dr. Tirgan and my 1st Cryotherapy treatment 10 days later. I was so nervous, I almost left before my scheduled appointment time. I waited outside the office for a few minutes trying to calm my nerves and at exactly 1:00pm here comes Dr. Tirgan. He asked how I was and I told him I was nervous and up all night and he said it so daringly "don't be nervous". I was his first patient and didn't feel rushed. He examined me, recognized the improvement from the antibiotic he had previously prescribed and again recommended Cryotherapy treatment. I agreed and without any numbing cream or injection he proceeded to freeze the keloid directly in my armpit that was itchy, painful and had recently developed a boil that had come to a head and was draining the day of my initial consultation appointment. The procedure was not painless but it was tolerable. My threshold for pain is very low so on a scale of 1-10 the pain during the procedure was about 6. I was so surprised I had to laugh at myself but I took two Advils or two Aleeves and hit the road back to Long Island. 30 mins later the pain was at 7 and it reached an 8 by the time I reached home almost 2 hours after the treatment. I ate, took my antibiotic and rested for a few hours. 5 hours after the procedure there was no pain and the keloid was already in a state of blistering. I changed the gauze no stick bandage and slept all night comfortably. It's now, almost 12 hours later and still no pain and I noticed that there is no itching. I almost feel some normalcy in my life. Thank you Dr. Tirgan. See you in 2 weeks.
What is a Keloid
Keloid is a chronic skin disorder, which negatively affects many aspects of patients' lives. Keloid Disorder can present itself either as a single small spot on the skin or appear as multiple lesions spread across several areas of the body.

In some patients, keloid lesions can grow to form a large skin tumor. Keloid has a genetic component, often runs in families, and is most often seen in Africans/African Americans and Asian populations, although it has been reported in individuals from almost all ethnic backgrounds. If someone is predisposed to the condition, a keloid appears only after an injury to the skin, which can happen in myriad ways such as ear piercing, acne, surgery, chicken-pox, etc.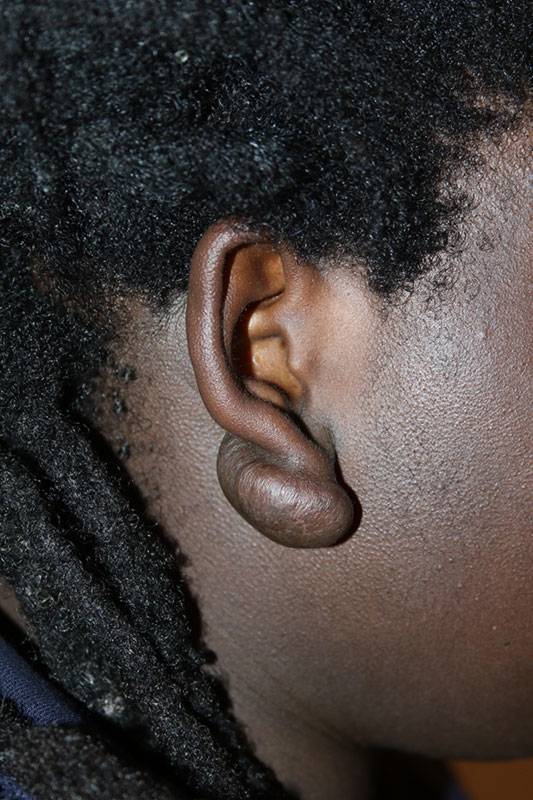 Why Specialized
Treatment Only?
When a healthy person receives some sort of injury to the skin, such as an incision from surgery, or piercing, their skin goes through a rather predictable healing cycle. The skin fuses back together, some scar tissue forms and, through a very complex negative feedback system, the body arrests the healing process once it's complete.
In a keloid disorder, the negative feedback loop that informs the body that it's time to stop the healing process doesn't function as it should and results in an uninhibited, excessive and prolonged wound healing response; as if the brakes on the wound healing process were malfunctioning. The result is an excessive and perpetual healing response and keloid formation. Now, if we operate on a keloid and cut it out surgically, the same abnormal wound healing mechanisms are triggered, leading to the formation of a new, yet much larger keloid. Cryotherapy, on the other hand, does not induce a cut in the skin. The underlying tissue remains intact and the wound healing response does not lead to keloid formation.
Why should you see Dr. Tirgan?
Dr. Tirgan is the only physician in North America whose medical practice is solely dedicated to the treatment of keloid patients. He has provided medical care to over 2,000+ keloid patients, many of whom continue to travel from far distances to be treated by him.
Dr. Tirgan is an international leader in clinical keloid research and cryotherapy for keloids. He has extensively published his clinical work and is a frequent speaker at national and international dermatology and plastic surgery meetings.
As a leader in clinical keloid research and cryotherapy for keloids, Dr. Tirgan is challenging standard approaches to many types of keloids. He has introduced treatments that not only achieve excellent results, but most importantly, do not cause harm, and do not put patients at risk of worsening of their keloids. If you suffer from keloid - if your keloids have gotten worse despite treatments or after surgery - or if your doctor cannot think of an effective treatment for you - you need to know that there is hope, and there is someone here who has helped many other keloid sufferers like you.
Keloid Treatment Secrets
Keloid Treatment Secrets is an easy-to-read book for anyone who is dealing with keloid disorder. In this book, Dr. Michael H. Tirgan discusses various aspects of this skin condition and provides the reader with an in-depth understanding of this condition. The reader will learn about simple treatment choices, how keloids should be treated, and most importantly about the treatments that are harmful and should be avoided.

If you are diagnosed with keloid or have been dealing with it for a long time, this book may help you to better understand your condition. It also arms you with the knowledge you need to make correct treatment choices.
5th International Keloid Symposium
We are pleased to announce that our last meeting, the 4th International Keloid Symposium was successfully held on October 7-9, 2022, in Montpellier, France. This meeting attracted many more specialist clinicians, dermatologists, plastic surgeons as well as laboratory-based scientists and researchers under one roof to discuss the challenges of this poorly understood and under-studied human ailment for the benefit of those who suffer the most, the keloid patients. We are now planning for our 5th International Keloid Symposium that will be held in early 2024.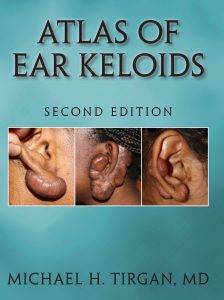 Atlas of Ear Keloids
Keloids are an important medical problem that is often under-appreciated by the medical community. Dr. Michael Tirgan has spent many years evaluating and treating patients with keloids in different regions of the body. The Atlas of Ear Keloids presents new insights into the natural history of keloids and provides a perspective that many of the standard surgical approaches may actually lead to the progression of these tumors on the ear. He presents good examples of an alternative treatment with cryotherapy that has convincingly eliminated some of the most troublesome keloids on the ear. This book will provide valuable information to patients with keloids on the ear and to medical professionals that treat these lesions. Atlas of Ear Keloids is available on Amazon.com.
James G. Krueger, M.D., Ph.D.
Laboratory of Investigative Dermatology
The Rockefeller University
New York
Clinical Practice Guidelines for Treatment of Keloids
THIS GUIDELINE publication is a compilation of recommendations for treatment of patients with common clinical presentations of keloid disorder. As you will notice throughout this volume, not all keloid patients present in a similar manner. Every patient presents with a unique problem. Therefore, the treatment for each keloid lesion should be customized for each patient.

Obviously, the first instinct in a young person who develops a keloid lesion is to have that lesion surgically removed. As documented in each Guideline, rushing into surgery will often result in worsening of the keloids - simply because keloid disorder is a progressive and multifocal disorder of the skin. Our better understanding of basic facts about this chronic genetic ailment will guide us to more effective treatment choices.
All the Guidelines documents are available on the website of Keloid Research Foundation .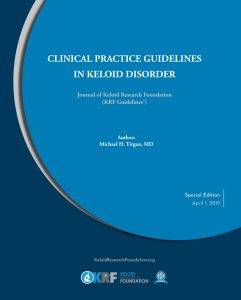 BEFORE AND AFTER TREATMENT