Intra-Lesional Chemotherapy:
Intra-lesional chemotherapy is most appropriate for treatment of papular, linear, or flat keloids and should be used only as a second or later-line of treatment after documenting failure of previous treatment with intra-lesional steroids.
In choosing chemotherapy drugs for treatment of a benign disease, only drugs that are non-carcinogenic, non-mutagenic, and with a reasonable short- and long-term safety profile should be used. Among the numerous, available chemotherapeutic drugs, Dr. Tirgan used three different drugs that have shown efficacy and are safe to use for treating keloids. Please click on the link to access Dr. Tirgan's comprehensive review and treatment guidelines for usage of intra-lesional chemotherapy.
Below are a few examples of efficacy of intra-lesional chemotherapy in treatment of keloids.
Chest keloids Treated with chemotherapy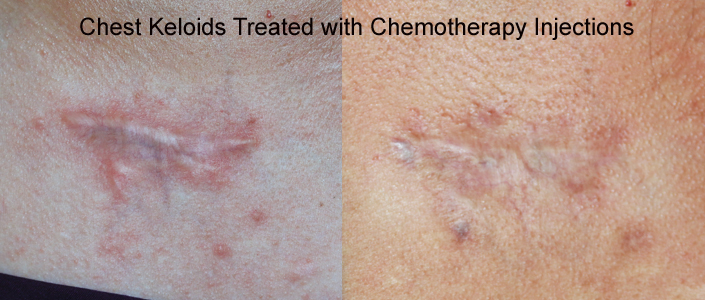 Chest keloids Treated with chemotherapy

Chest keloids Treated with chemotherapy
Chest keloids Treated with chemotherapy
Chest keloids Treated with chemotherapy