Chest Keloids – Case Study 4 – Challenging Chest Wall Keloid:
This 40-year-old Asian male presented to Dr. Tirgan in September 2012 for treatment of several chest wall keloids. His keloids first started developing when he was in high school. He had previously been treated with multiple rounds of steroid injections which proved not to be effective.  The image below shows his chest keloid in September 2012.
Since he had previously failed to respond to steroid injections, decision was made to at least try cryotherapy to one of his keloids. Image below depicts the treated keloid immediately after the application of cryotherapy.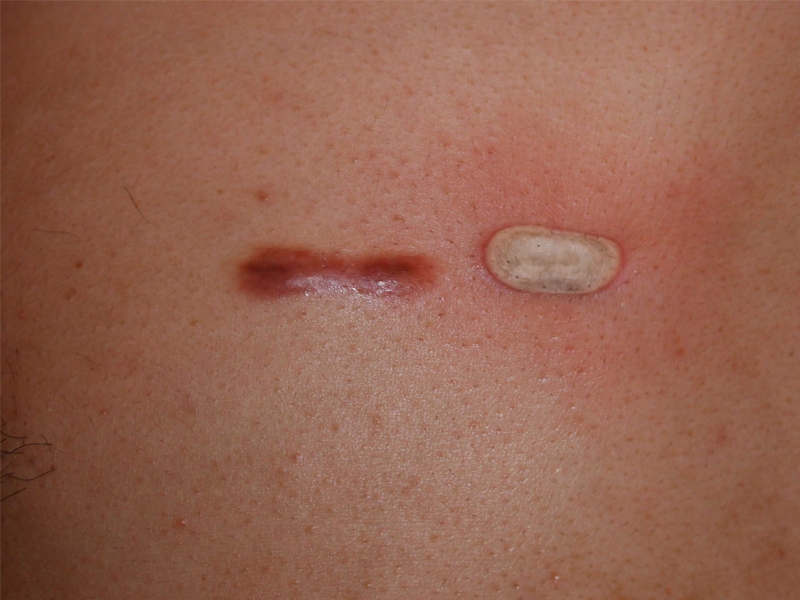 After this treatment, the patient did not return for follow up until November 2013, at which point his keloids had progressed and enlarged. As depicted below, the two adjacent liner keloids had now merged and formed one large thick linear keloid.
At this point, with a rapidly advancing chest keloid, the treatment options are limited to intra-lesional chemotherapy.  The whole keloid was treated with chemotherapy, however the response was short lasting.
The second-line chemotherapy drug was used at this point and fortunately, the keloid started to respond.  The following images show the progress made with intra-lesional chemotherapy.
This keloid continued to respond to the second-line chemotherapy drug and soon became totally asymptomatic. The follow-up images below show more improvement in overall appearance and thickness of this keloid. Achieving the results that we have achieved so far is simply not attainable with any other treatment modality.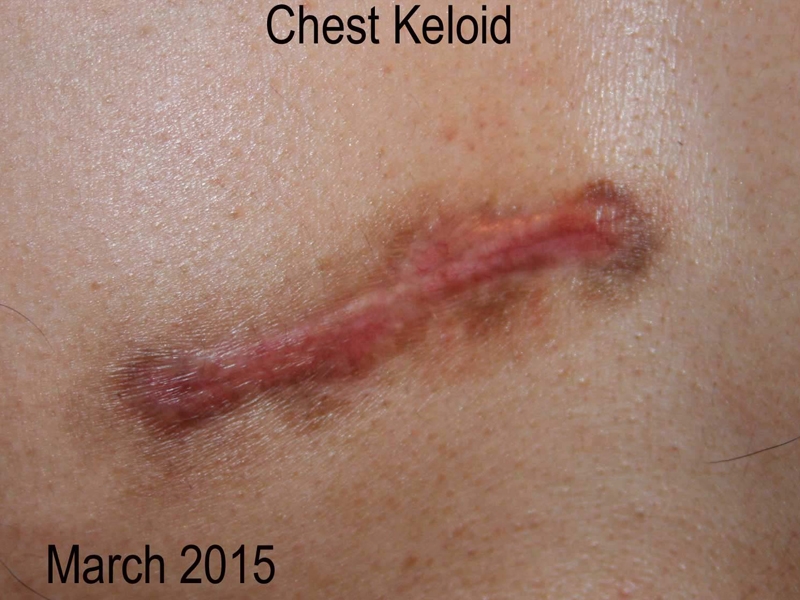 Three years later
This patient, being happy with the results and the keloid has remained stable.  He returned 3 years later, in late 2019 for treatment of two new lesions.  As shown below, the previously treated keloid has remained under control, attesting to durable results from intralesional chemotherapy.
Another thing that is noticeable is the resolution of all chemotherapy induced hyper-pigmentation and darkening of the skin over time.
Chest Keloids - Follow up after three years
Chest Keloids - Responding to chemotherapy