Ear Keloids – Case Study 5 – Ear Keloid in a 15-year-old:
This 15-year-old teenager presented with a left ear keloid as depicted below. An injury to his ear at the age of 6 gradually led to the development of this keloid. Prior to this presentation, he had undergone keloid removal surgery, three times. and his keloid had regrown after each surgery. He had also received multiple steroid injections with no apparent benefit.
The family has taken him to one of the most prominent medical centers in the country, where he was again advised to receive steroid injections. He was self-referred to Dr. Tirgan in July 2014 for the management of this keloid.
Dr. Tirgan's Treatment Strategy
It may be quite hard to appreciate the stress that this recurrent ear keloid has imposed on this young man.  He has been dealing with this keloid for several years and has undergone several painful procedures.  Luckily, at the time of this presentation he had no pain or discomfort from the keloid. What is noticeable in the photograph is that the prior surgeries have resulted in some degree of loss of normal ear tissues, and somewhat altered his ear anatomy. The goal of treatment for this nodular ear keloid is two folds:
We need to totally remove the keloid from his ear.
We also need to preserve and somewhat reshape the ear to improve it appearance and continuity of the edge of the ear.
Both goals can be achieved with proper use of Cryotherapy.  After thorough discussion of the treatment plan with the youngster and his family, the first treatment was applied to the keloid on July 15, 2014.
Recurrent Ear Keloid
Ear Keloid immediately after application of cryotherapy.
The patient returned for follow up in November 2014. By then the mass of keloid has reduced. The keloid was re-treated during this visit.
Ear Keloid in a 15-year-old
By January 2015, the keloid was considerably smaller. The remnant of keloid was treated with cryotherapy again.
Ear Keloid Treatment with Cryotherapy
Several months later, the family sent this image, along with a thank you note to Dr. Tirgan.
Ear Keloid Treatment with Cryotherapy - Durable Outcome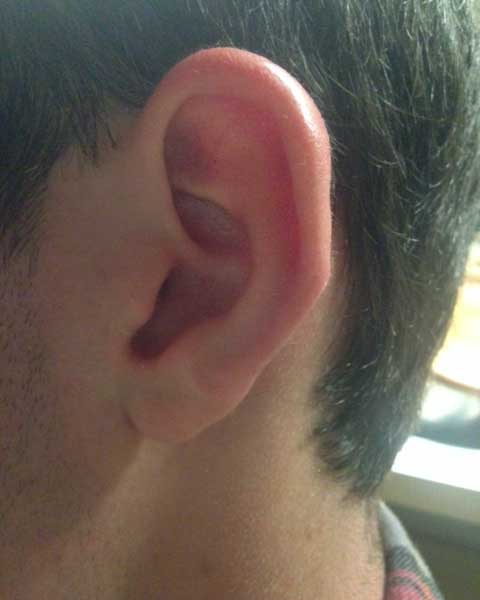 Thank you card sent to Dr. Tirgan by the family of one of his patients.
Dear Dr. Tirgan,
We first came to see you in July of 2014 to have our son Sam's ear treated for a keloid. After all, he had been through with that ear I have to say I didn't share your confidence that it would finally stop growing and even be reduced to almost gone….. really all there is is a bit of scarring – almost like a burn. Amazing compared to what it was prior to treatment. January 2015 was his third and final treatment which means it has been stable for 2+ years! We are so grateful and see the whole process as an answer to many prayers. We thank you for the service that you have provided to our son! He graduates from High School in just a few more months! I will send pictures soon for your records. (of his ear, not graduation)
Sincerely,
Karmen, Terry & Sam
(April 2017)