Ear Keloid
This is a 15 year old male with a keloid in his left ear. An injury to the ear at age of 6 gradually led to development of this keloid. He has had three surgeries, and multiple rounds of steroid injections with no apparent benefit. The family has taken him to one of most prominent medical centers in the country, where he was again advised to receive steroid injections. He was self-referred to Dr. Tirgan in July 2014 for management of this keloid.
Dr. Tirgan's Treatment approach to this keloid
This keloid has certainly been challenging to this young man. He has no pain or discomfort from the keloid. Prior surgeries have resulted in some degree alteration of the ear anatomy.
This patient has a nodular keloid. The goal of treatment is to totally remove this keloid and ultimately focus on reshaping the ear and maintaining a continuity on the edge of the ear. All this can be achieved with proper use of cryotherapy. The first treatment was applied to this keloid on July 15, 2014.
Nodular Keloids
Nodular Keloids Surgery
He was advised to return in 6-8 weeks for follow up and continuation of treatment. Keloids like this require 3-4 rounds of cryotherapy to be totally removed. Recurrence rate after cryotherapy is very low. We will post follow up images in about 2 months.
The patient returned for follow up in November 2014. The mass of keloid has reduced. The keloid was treated once again.
In January 2015, the keloid is considerably smaller. The remnant of keloid was treated again.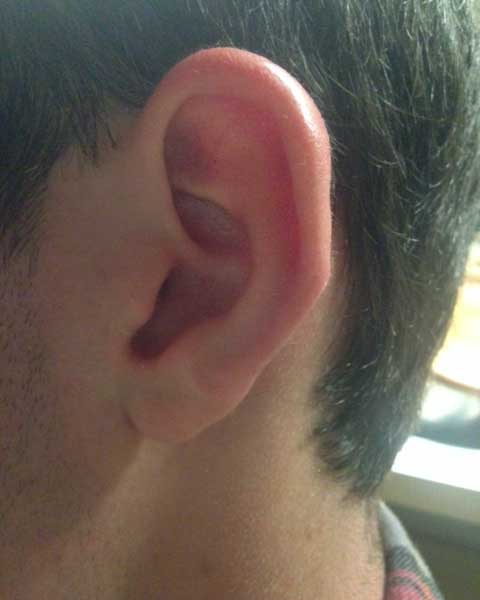 With cryotherapy alone, we were able to successfully remove this ear keloid. Dr. Tirgan is thankful to the parents for submitting this follow up the image as well as their warm card.