Earlobe Keloids Removal with Cryotherapy:
The keloid depicted here was previously treated with surgery, but it relapsed and grew larger than before. This patient consulted with Dr. Tirgan in middle of June 2011 and was treated with cryotherapy on the same date.
Within the first 24-48 hours, the treated keloid swells up and forms a large blister. Below is the image of this keloid exactly one week later. This reaction is completely normal and not worrisome. Patients are advised to keep the keloid area clean and dry. Keloid itself should be covered with a medical gauze that can absorb all the secretions.
Over time, the swelling subsides and the tissue dries out and forms a very thick scab. The scab usually falls off on its own. At times, and in this case, the scab remained adherent to the base of the keloid. Below is the image of this keloid 2.5 months later.
Earlobe Keloids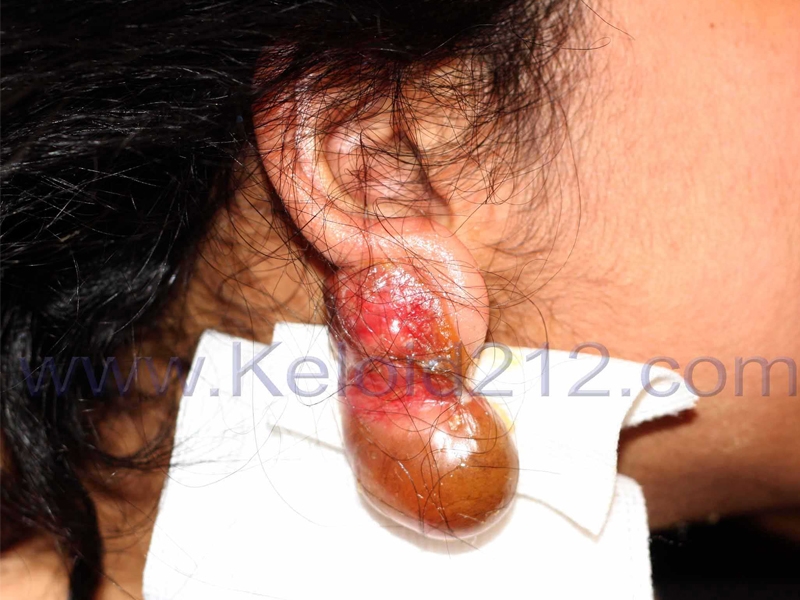 Earlobe Keloid, one week after cryotherapy. The whole keloid has become necrotic and edematous.
Since the scab had not fallen on its own, Dr. Tirgan broke the scab and removed it. This was done under local anesthesia. By this time, the mass of keloid was reduced by more than 60%. The remnant of the keloid was treated once again and it did go through a similar process of swelling and becoming necrotic. This time the scab fell off on its own. Below is the image of the earlobe, taken 6 months after the initial treatment; showing the base of the keloid, after recovery from two applications of cryotherapy.
Keloid was treated one more time. It went through the same process of swelling, scabbing and healing. Below is the image of the earlobe 9 months after the first treatment (March 2012).
Total resolution of an earlobe keloid with Cryotherapy, a keloid that had previously relapsed after surgery.
This case is typical example of how cryotherapy works for ear keloids and other bulky keloids.