Challenging Umbilical Keloid
Umbilical keloids often develop subsequent to piercing or surgery, in individuals who are prone to develop the keloid. The case discussed here is a young woman who had undergone surgery with an incision in the umbilical area which over time developed into a circular keloid.
Umbilical keloid Cure

Keloid formation all around belly button following a tummy tuck surgery.
Umbilical Keloid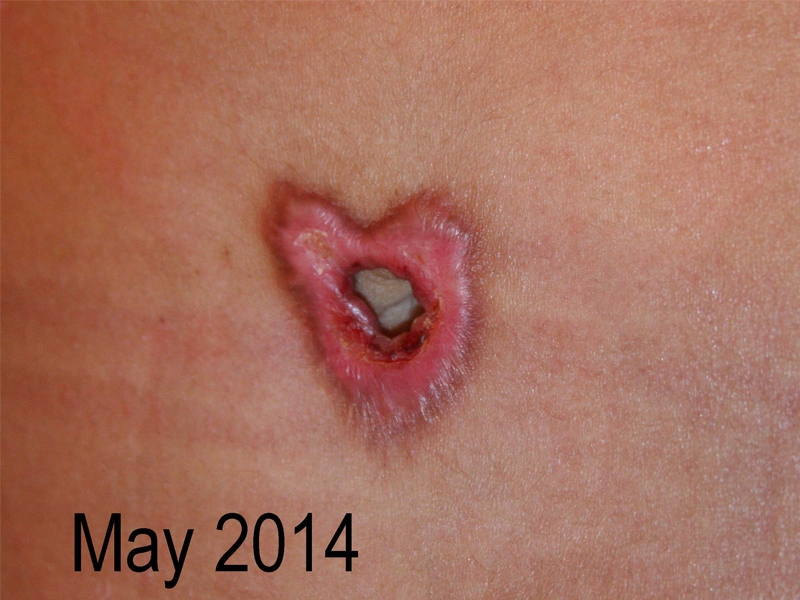 Subsequent to the formation of the keloid tissues, this patient has treated with steroid injections, however, her keloids did not respond to this treatment. improvements. Dr. Tirgan treated her keloid with cryotherapy combined with steroid injections. By the end of May 2014, the keloid was slightly better, but it had started to grow centrally.
Umbilical Keloid Treatment

Over the next two months, despite aggressive treatment, the keloid continued to grow inwards to the point of near closure of the umbilical opening in its center.
Umbilical Keloid Removal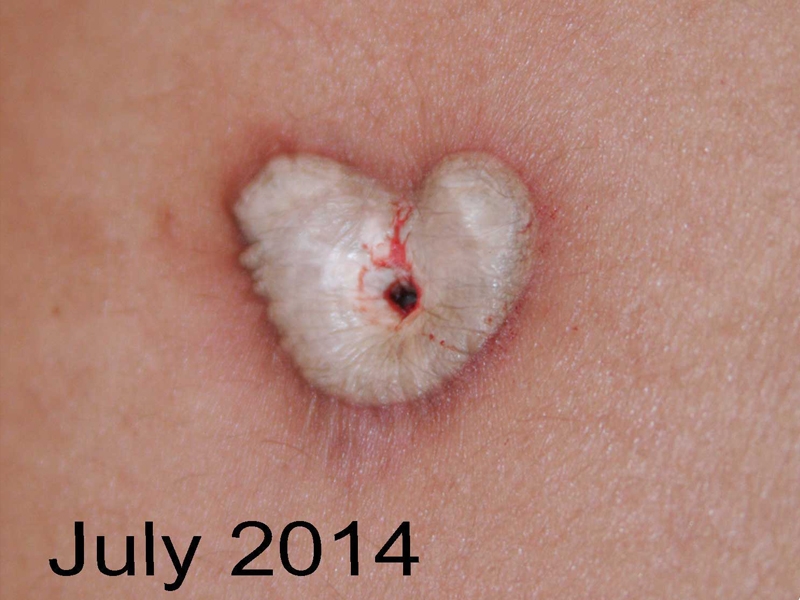 At this point, we were concerned about the continuous growth of the keloid and closure of the umbilical opening. Cryotherapy was continued, yet we decided to use a device to expand the central umbilical opening. With the creativity and assistance of the patient and her husband, multiple small size devices were made that would fit inside the already tightened opening. This allowed preventing the closure of the opening. Over time, with continuous treatment of keloid with cryotherapy and steroid injections, and gradual increase in the size of the devices, we were able to widen the umbilical opening.
Circular Umbilical Keloid

With continued treatment, we were finally able to bring the keloid under control. The treatment continues to further improve the outcome.
Circular Umbilical Keloid Removal

By January 2015, the keloid process died off and the skin appeared nearly free of the keloid. Treatment was continued to treat the area to improve the overall appearance of the umbilicus.
This is a good example of what it takes to treat a keloid. Treatment of this disorder takes time, often months and it is a process of frequent treatments until we achieve results. Almost all keloid patients require repeated treatments to control their disease. Thinking that was can get rid of a keloid with a one-shot treatment using surgery and radiation therapy, is simply a "wishful dream" that often results in a much worse outcome.